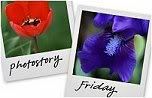 Hosted by Cecily and MamaGeek
Thanksgiving lunch has been consumed, and consumed and consumed.  We had BBQ'd turkey cooked to perfections, roquefort stuffed potatoes, roasted veggies, stuffing, and deviled eggs.

The list of homemade deserts was insane.  Plum pie, apple cranberry pie, pumpkin pie, pumpkin and chocolate chip cookies, and cheese cake.  
So needless to say, right now I am feeling a bit like this horse Taser!  Unlike Taser, I'm just full from all the food I ate.....he on the other hand is making this face because he had to ingest a bunch of nasty tasting medicine.
Thankfully, no one made me eat anything yucky today!  Thankfully I also don't look like Taser. My teeth are much whiter than his!
Want to know what I'm really Thankful for today??  My iMac is back!  I got a call last night at 8:15 letting me know that my girl was ready to be picked up.  
I jumped off the sofa, grabbed my car keys and ran out the front door so fast it made the families heads spin.  
Off to do a few cartwheels to celebrate my first post since she returned......goodness knows I could stand to burn a few calories right now.