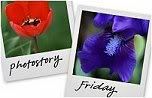 Hosted by Cecily and MamaGeek
You first started playing soccer when you were seven years old. How cute you looked all decked out in your tiny cleats, tiny shin guards and brightly colored over sized uniform. As parents we were excited at the prospect of cheering you and your teammates on from the sidelines and I was really looking forward to finally becoming a "soccer mom."
Here we are 12 seasons later, and you have come along way my not so little soccer player. Your sweet, non aggressive, non competitive nature has always been at odds with playing the game of soccer. But this season you have really showed us what you are made of.
You are aggressive enough to show the other team you mean business, but you never go over board! You are competitive enough to want to win, but you always remain a good sport even when your team loses. You have finally released your inner athlete and most importantly, you are an awesome team player.
I know you say this will be your last season playing soccer and I can certainly understand that you are getting older and want to pursue other interests...........but I can honestly say that I will miss being your "soccer"mom.  So little girl, enjoy the rest of your
last
season playing soccer and know that I am proud of you.
Love,
Your Soccer Mom!