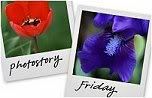 Hosted by Cecily and MamaGeek
These were a few of my Favorite Things!
My EX-Favorite hat from Disneyland!
Glittery Tiara, Rhinestones, what could be better?
My EX-Favorite Havana Joe's!
This is the left Brown shoe.
I have an identical left Black one too!
My Ex-Favorite $48.00 Victoria Secret Bra!
Body by VS....Instant boob job!
The Destroyer of many of my Favorite Things!
She is lucky she was so darn cute as a puppy!
***************************
*In case you all think we are nuts to keep a dog that chews up everything.........she did almost all her damage as a puppy.  She will still chew up underwear (she just can't resist) and she will steal any food left on the kitchen counter, but for the most part her reign of terror has ended.