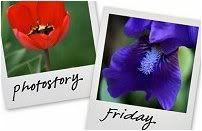 Hosted by Cecily and MamaGeek
Back in the late 1970's, while visiting a client, my Dad noticed a unique piece of art work hanging on his clients office wall.
The piece of art that caught his attention was a collection of old cancelled stamps.  They were carefully cut out and mounted on tiny black squares in a beautiful frame.  
My Dad was so intrigued by the collection that he decided that day that he would start his own collection.
After more than 20 years of collecting cancelled stamps (and not doing anything with them) he handed the huge dusty box over to me.

The girls and I spent several hours cutting the stamps and their cancellation date away from their dusty envelopes.
The new, and much smaller box, is sitting on my breakfast bar begging me to play with them.