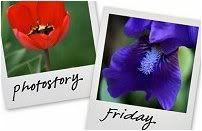 Hosted by Cecily and MamaGeek
On Christmas morning as I was gathering up the shredded gift wrap, I looked out the window and saw the most incredible rainbow forming over the neighborhood. 

Of course I kicked off my fuzzy slipper, grabbed the camera and ran out back.  I barely had enough time to get the lens cap off, adjust the exposure and snap a picture before the rainbow had vanished.
There is something so magical about a rainbow.  It is one of those rare treats in nature that you can't touch and can only enjoy for a few split seconds before it is gone.  It kind of takes you breath away doesn't it?
Here is hoping that you all have a magical 2009!