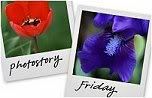 Hosted by Cecily and MamaGeek
#1: Stand in the middle of the parking lot so that you can get a picture of the "Now Open" sign hanging on the newly remolded Target.
Hey, you have missed your Target. It has been closed for 8 months and this moment deserves a picture....oh, and you know you might want to use it for
Photo Story Friday
!!
#2: Whip out the forbidden camera, sneak up on unsuspecting Teenager, and start taking
pictures! They think they can hide from you, but you were given mom radar for a reason.......so use it!
#3: Convince younger daughter to put on all the Halloween masks so you can take more embarrassing pictures. Make sure to laugh hard enough to cause a scene! This always causes younger sisters to act even goofier than normal! Actually, being goofy is normal and is always embarrassing.
#4: Next convince Teenager that they need to be goofy too, but promise you won't take any pictures. Then when you know they can't see out of the eye holes, snap another picture!
#5: Next tell your Teenager you need to go into the feminine hygiene isle. You will get bonus embarrassment points if there are teenager friends lurking about in the store! Oh, and make sure to take pictures of the embarrassing feminine hygiene products!
That will conclude this mini lesson on embarrassing your teenager! My test subject did appreciate that I brought my point and shoot instead of my 35 mm for this embarrassing moment.
***Note to self.....big camera is more obvious, thus more embarrassing!