I take pictures every single day.

Taking pictures so frequently makes me look at the world around me just a little bit differently.

Apparently it is also rubbing off on my girls.

On Saturday while we were walking around the cross up on Mt. Soledad, just as we came into view of the flag and cross Kate stopped in her tracks and said, "Wow, that would make a great photograph." Then she proceeded to tell me how I should frame the shot.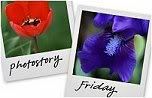 Hosted by Cecily and Lolli