Do you have a name that is easy to recognize and spell?  Or are you like my daughter and have a name that every time you say it the person you are speaking with says, "Excuse me?" 
My daughters name is Reid, and for some reason the name doesn't seem to register with most people.  I realize it is a surname, but it isn't like her name is Orangejello!
What really amuses us is when people pretend to hear her name and then proceed to misspell it.  Here are just a few renditions; Reaha, Ritz (that's our favorite), Rita, Weed, Red, Rea, Teed, and Read (that is at least close).
Today however was a banner day!  As my daughter reached for her Double Chocolaty Chip from Starbucks she squealed with delight.  The Barista actually spelled her name right!  A first!
It's the little things in life!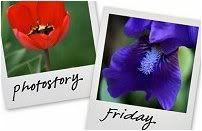 Hosted by Cecily and MamaGeek