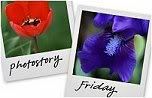 Hosted by Cecily and MamaGeek
I hate not having the time to participate in Photostory Friday's with Cecily and MamaGeek, so while I have a few free moments I thought I would get my post up early and share with you a few photo's from the Photo Hunt that I didn't have enough time to complete!  

Hmmm, anyone noticing a theme here?  Anyhoo.....there were 26 items to catch with your camera and I'm not sure how many I actually did capture, I just know I didn't get them all.
Here are some of my favorites (
click on the images to enlarge them
)!  This first photo was my
Reflection
shot.  I took this picture just after the sun came up and even though the water wasn't perfectly still it was pretty glass like.
The Mission was established in 1769 and is California's first church.  The California Missions are a big part of California's history.
It is an interesting historical site and is the place where the western world was first introduced to Catholicism.  Which means lots of neat Catholic artifacts and statues.
I was raised Catholic and even though their statues and rituals kind of scared me as a child, I find them completely fascinating!
Next up we have a shot from an
unusual perspective
. This picture was taken at the Mission.  I love how visitors have placed rosaries on the hands of this statue.
Here is my
Church
entry.  This is the church at the Mission and is still used for services.  I love how this Church reflects its Spanish roots.  I've said this before, but Catholics know how to create spectacular churches (even if they are a little scary).
Next up we have a
Cemetery
.  Unlike older parts of our country, San Diego does not really have any old ornate cemeteries.  We are however a military town and this is a shot from
Fort Rosecrans National Cemetery
.  These service men and women (and their spouses) have some prime real estate to rest in peace.  On one side lies the Pacific Ocean, on the other is the San Diego Bay (which is what this view shows).
I showed this next picture on my 365 blog.  It is my
motion
shot and it is also the last one that I am going to share for now!
Well, that is it.  I hope you enjoyed a few of my favorite shots from the photo hunt that I didn't complete.