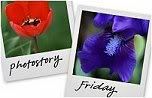 Hosted by Cecily and MamaGeek
On Saturday morning I woke up to the sound of rain falling.  We don't get rain very often so it was a welcomed sound.

When I walked into the dining room I could tell by the way the sky looked that there had to be a rainbow somewhere outside.  I wasn't disappointed.  This rainbow (unlike the last one I shared a few months ago) was not only a complete arching rainbow that reached from one side of the valley to the other.....it was also a double rainbow.
In between storms I decided to take my Canon down to the beach to practice using some new found camera knowledge.  It is so nice going to the beach this time of year!  Why?  The lack of people inhabiting the sand!
I did however find a lot of seagulls hanging out!  It was late in the afternoon and the perfect time to get a few reflection shots.  
The late afternoon is also good for taking shots of long shadows.  I wished I had the nerve to ask these surfers to pose for me.  Because I would have moved just a little more to the left in order to capture the great shadows they were casting.
As it so happens, I was being quick so that I wouldn't get caught taking their picture.
After photographing the backsides of a few more unsuspecting surfers I decided to sit down on some rocks near the waters edge and see what I could find to shoot.
I found the above sea weed bobber thing-a-ma-jiggy and while I was concentrating on getting the exposure and focus just so the water came up and covered my feet!
Crap!  I should know better than to wear anything but flip flops to the beach, but it was cold and.......oh, I have no excuses!  I should have known better.
The water that rushed in was cold but it felt oddly warm and comforting once inside my running shoes.  My jeans on the other hand felt horrible.  Heavy, sandy and rough!
I hope you enjoyed this little trip down to the pacific ocean?
Cheers!