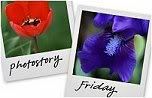 Hosted by Cecily and MamaGeek
Great ready Heidi Klum, because here come future contestants for the 1000th episode of Project Runway.  Aren't they lovely?  Can't you imagine these fashions parading down the runway during fashion week?  They seriously look like some of the crazy clothes that designers call fashion!
Ok, these girls might not be ready for fashion week, but give them a few years! I see some serious potential in these wack-a-do outfits!