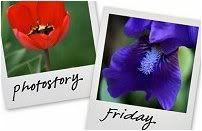 Hosted by Cecily and MamaGeek
Once a month the safety patrol kids have dress inspection.  This Wednesday, Kate and several of the other SSP girls had a birthday party to attend after school.

So Kate came prepared and wore her black tank top under her red SSP shirt.  Since it was nearly 80 degrees at recess she and the other girls that had worn an extra layer decided to shed their unfashionable red shirts.
When one of the boys in her class saw that she was wearing a tank top he said to her, "
You are going to get in trouble for breaking the dress code.
"  Kate did the typical kid thing and said, "No I'm not."  
Then he said, "
You know it is against the rules to wear
NOODLE
straps to school
!"  
Kate and all of her girlfriends bust out laughing when he said that!  Being girls they know that the straps he was referring to are called spaghetti straps not noodle straps.   
Nice try buddy, but next time you decide to be the dress code police you need to get your clothing lingo straight!