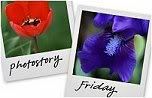 Hosted by Cecily and MamaGeek
This past summer we had the good fortune to make friends with a new family while we vacationed at the Ranch.  The mom and I hit it off right away and our oldest girls soon became quick friends.  
Both girls are only a few weeks apart in age and had a lot in common, which means Vicki and I also had a lot in common!  

By the end of the week the two teens were attached at the hip and sharing each other's clothes!  It was sad when we had to say goodbye, but we all promised to stay in touch.  
So that is just what we have done! During Thanksgiving we had the opportunity to meet up again!  They drove down near us to go hiking and then traveled about an hour and half away to have Thanksgiving with family.
We jumped at the chance to spend an afternoon together!  My friends sister generously opened her beautiful home to our family.  We spent a few hours chatting and catching up and getting to know Vicki's husband (he didn't come to the Ranch) and her sister.
After munching on some yummy Thanksgiving leftovers we took to girls Ice skating down at the beach!  Yes, that is the way we roll here in Southern California!  We Ice skate under the shade of palm trees.
After ice skating we headed down to the beach.  Since it was late and we were going out to dinner we asked all four girls not to get wet.  Of course the big girls thought they could keep from getting wet if they just rolled up their skinny jeans.  
Which really means, we will shake our heads, agree not to get wet, but ultimately we are going to do what we want.  "I mean like what's the big deal MOM it's only water!"